Try these articles:

• going green at home, being environmentally friendly
• keep mosquitoes out of your home and yard
• waterproofing your basement
• how to avoid foreclosure and keep your home
• security, alarm systems for your home
• sunroom or solarium: a bright addition
• remodeling your kitchen
• which home mortgage loan is best for you
• determine your home's value for selling
• find two more hours in every day.

Reupholster Your Sofa, Chair, or Other Furniture Yourself

If your furniture is getting old, you may be hesitant to replace it. The cost is certainly a factor, since a new sofa and living room chair can cost thousands of dollars. New dining room chairs can be expensive as well. You may really like the way they fit in a room or how comfortable your furniture is.

Consider re-upholstering your furniture yourself. If you or someone you know is good at sewing, but thinks of slipcovers as a daunting task, you can recover a dining room chair as your first project. Watch the video below to reupholster a chair or dining room seat.
Another first step is to start with sheets for a quick redo, rather than a complete re-upholster. You'll save time, money and labor over making slipcovers from scratch. Search for some great colors or patterns that will complement the decor of your room, or jump right in and buy upholstery fabric.

To recover a sofa, remove the cushions and measure your furniture, allowing for some material to be tucked in at the arms. Consider decorative cording to create a "skirt" area. Fold the material at the bottom as if you were wrapping a gift, with some excess underneath. Attach the excess with staples or safety pins on the bottom, where they won't show.

Next, sew covers for the cushions. Consider a different, coordinating material for some added pillows. Small pillows don't require much fabric, so you might use some thicker material, perhaps from a blanket or purchased fabric.

These simple steps will allow you to quickly recover a sofa to provide a whole new look for your living room or family room.

If you want a more professional look, consider this DYI guide from a professional reupholsterer, who is kind enough to share tips and tricks for beginners. Also, be sure to view the videos below, the first one for a dining room chair, and the second video to upholster a couch.

How to Upholster a Chair, Dining Room Seat

How To Upholster a Sofa

"There are three varieties of support systems that might be found in upholstered items: solid support systems, tension support systems, and spring support systems," according to Wikipedia. Most upholstered dining room chairs use a solid support system, with the seating and back area being made of solid wood covered by cushioning and fabric.

A common type of the lighter tension support system is interwoven webbing, which is padded and covered. A spring support system is what is often found in a couch or easy chair, using various types of springs, covered by padding.


Learn to reupholster now
Save hundreds and master the art
Get instructions here...
You'll find more free home and garden tips on the following:

Decorate like a pro: A guide to home decor

Claiming your space: a guide to reorganizing a room and getting rid of clutter

Feng Shui Tips for Home Decorating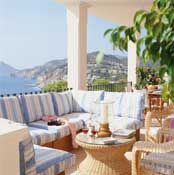 Your Guide to Sunroom Additions
Sunrooms have become very popular additions to today's home. The design brings the homeowner closer to the outdoors, but with all the coziness and comfort of an indoor room.
Home Mortgage Loans: What You Need to Know
With today's lower mortgage interest rates, many homeowners are looking to refinance their first mortgage on their home, sometimes to incorporate a second mortgage or home equity loan.
Find Time for What You Love
Learn the secrets of mastering time, and you will finally be able to have the life you have been dreaming about.
Take the Bite Out Of Mosquitoes, and Avoid the West Nile Virus
Mosquitoes have always been pesty visitors when it comes to summer enjoyment, but because of the West Nile virus, it has become critical that we do whatever we can to reduce the number of mosquitoes paying visits to our yards.