Feng Shui is an ancient Chinese philosophy, which believes that the positioning and physical characteristics of a home affect the fortunes of the owner. With these feng shui home decorating tips, you can achieve more prosperity, better health, and happiness by affecting how energy flows through your home or garden.

Recently, people around the world have begun to see the benefits of using feng shui techniques in their homes. To design for optimum results, you need to learn the basic feng shui areas, and what each symbolizes, and decorate accordingly in your home, office, room or garden.

• Draw a Layout of Your House
The first tip in feng shui is to get a plot or architectural rendering of your home. If one is not available, draw your own as best you can, marking each room, door, window, etc. Make sure you note where north points in relation to your home or apartment. With this starting point, you can better utilize tips for improving your life. Each home has locations which focus on your family, your finances, your health, etc. Make sure you have a good foundation, by having a diagram of your home.

• Door Placement
Ideally, your front door and back door will not line up with each other. If they do, according to the principles of Feng Shui, the chi (energy) will slip right through the house, without bringing benefits to the residents. If the doors do line up, you can help ease the problem by placing a large plant or other obstacle beside one of the doors, with an angled throw rug to encourage a path in a sideways direction.

• Get More Energy in Your Life
Give your life a little yang if you want more energy. Bring in the light. Open the curtains or blinds and let the sun shine in as often as possible. Green plants in your home will activate yang, bringing you joy and happiness. Yang can also be obtained from music, water, air, mirrors, wind chimes, bright colors and flowers. Try it and see!
• Make Your Dreams Come True
Do you have some positive goals or desires? To help make your dreams come true, position an indoor water fountain in a favorable area in your home. The water will attract the things you desire.

• Are You Seeing Red?
The rules of feng shui say to be careful with your use of the color red, which represents the element of fire. Do not use a red living room set. A red sofa and chair could bring undue work pressures and obstacles into your life. Likewise, don't use red in the wealth area.

• Bring Joy and Happiness In
Try decorating your home with more light, music, water, air, plants, mirrors, windchimes, bright colors, houseplants and flowers. Open the drapes, curtains or miniblinds all the way to let the sun shine in. This will activate the yang chi of joy and happiness.

• Get a Happy Relationship
The southwest area of your home is significant to satisfying relationships. Enhance this area, by eliminating clutter, and replacing it with symbolic items, especially in pairs. Good choices include pairs of candles, pink quartz crystals, heart shapes, or objects made of materials such as porcelain, china, clay, stone or terra-cotta. Stay away from wood or green items in this area.

• Feng Shui in the Dining Room
Round dining room tables are best because circles symbolize heavenly blessings. Dining room chairs should be of an even number and comfortable to sit in. Dining room décor should be simple, so it doesn't distract from the food.

• Watch Out for Exposed Beams
Other elements to watch for are exposed beams, which can create oppressive downward energetic flows that can cause problems regarding your health, well-being, and other areas of your life. Watch out especially for beams over the bed, stove, desk, dining table or front door. To cure the problem, you can hang two Feng Shui flutes at 45-degree angles on the beam, one at each end. Or, paint the beams to match the ceiling or hide them with a false ceiling or in some other way.

• Feng Shui in the Bedroom
Don't have your bed situated so you are directly facing the door to your bedroom. Also, be careful where you place mirrors in your bedroom. A mirror opposite your bed or at the side of the bed could attract a third party into the relationship.
Copyright Paradox Productions, Inc.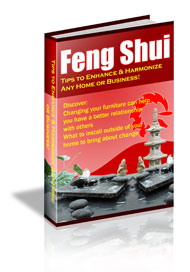 Who else is ready to transform your life for the better? We recommend Feng Shui – Tips To Enhance & Harmonize Any Home Or Business.

You'll find more free home and garden tips on the following:

Decorate like a pro: A guide to home decor

Claiming your space: a guide to reorganizing a room and getting rid of clutter

Are you ready to really transform your life for the better? We recommend Feng Shui – Tips To Enhance & Harmonize Any Home Or Business.