Try these articles:

• going green at home, being environmentally friendly
• keep mosquitoes out of your home and yard
• waterproofing your basement
• how to avoid foreclosure and keep your home
• security, alarm systems for your home
• sunroom or solarium: a bright addition
• remodeling your kitchen
• which home mortgage loan is best for you
• determine your home's value for selling
• find two more hours in every day.

Decorative Collector Plates Serve Up a Dishful of Dollars
by Jeffrey D. Leiser
Back in the early 1970s, there was a small revolution in Decorative Collector Plates. A revolution that actually passed by with hardly a notice. Since then, plates began to decrease in value. But now these plates are moving up in value again. An obvious reason for some of the upsurge is some of their compositions being silver and gold. Rare metal prices have been steadily on the rise since January of 2000. After the downhill slump of the stock market about that time, many find themselves wondering, "Where can I safely invest"?

You can hunt for good buys from yard sales, private estate sales, or even on Ebay, where deals can be found on decorative and commemorative plates. Here are a couple of examples of buys I made on Ebay: Lincoln Mint's Salvador Dali's 71&72 Unicorn, Athena, and Easter Christ Plate series. Each themed plate came as three dimensional whimsies cast in solid Gold, solid Sterling Silver, vermeil or pewter. I had gotten all three plates in the Sterling Silver variety. Below is the 1972 gold version of Dali's Athena, which was 300 in number and $2000.00 each in cost. This particular plate was bought from a private party "as is", no papers, and not in the original presentation box.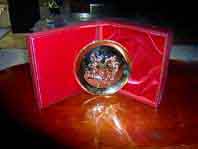 1973 Lincoln Mint's solid 18K gold plate "Athena" by Salvador Dali. Current "Mint Condition" value: $4,800.00. (Click on photo to enlarge).

Having the papers and original box missing from any decorative plate collection will detract from its worth in the eyes of the collector. There could be a possible loss to the seller as well. I'm pretty sure that woman I bought the gold Athena plate from wouldn't have allowed me to purchase it for seventy-five dollars had she known its true worth.

This is why you, as a buyer, must be prepared with some plate knowledge. And as a seller remember to keep the box and paperwork, along with the plate's current value, all together. So, if something should befall you, a relative could (on your behalf of course) sell the Athena for the right price. Fortunately for all of us, these opportutity come around pretty often if you keep your see open and for those rare deals. Now you're probably wondering how you can spot a deal like that from all the plates that are out there?
OK, there are lot of plates out there, but as in anything, it's supply and demand. A collector plate's real rarity lies in a small issue number. A rule of thumb for rare plate issues, as far as numbers are concerned: 5 to 10 thousand are high demand to semi-rare, 1 to 5 thousand issues are semi-rare to rare. Under 1000 are considered rare to very rare. Issues less than 500 plates are highly sought after. There are exceptions to this rule. Below are two examples of how plates in high demand change the market rules.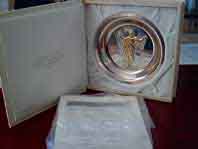 From left to right: Salvador Dali's "Easter Christ" issue price $150.00 limited edition 20,000 - current in-mint-condition price, $300.00. The Resurrection by Evangelos Frudakis issue is a 1973 limited edition of 7,116 at a price of $175.00. Now, if in mint condition, this plate could yours for a mere $500.00. (Click on photos to enlarge).

Both plates contain ten ounces of Sterling, but the important thing to remember is "mint condition" means all paperwork, presentation box, and of course the plate itself, must be as it was when sent from the factory to the buyer. The plate could have a loss as high as twenty-five percent without the original box and paperwork.

OK, let's review. Know what you are selling and buying. In other words, buy a pricing guide. Scope out the best areas in getting the best deal on the collection you might want to invest in. Ebay could be a good source of buying quick and easy, and you can run into a deal. The downside is that a lot of other people know this and they are going to be competing against you. So, take it slow and don't get sucked into the bidding war. You may pay way more than you want to spend, and that means a lower return on your money.

Take it as a hobby that could make you a lot of money. Go to yard and estate sales with a list of what you are looking for, and don't buy what you can't sell for a profit. The most important thing you must possess is patience. Then you might come across a group of plates like the ones below. Their total value is over $2,500. This is because each plate took over two weeks to create, and they number at 500 and less to a limited edition.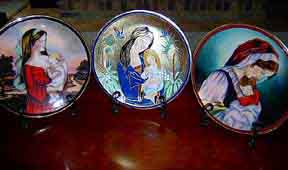 These are Mother's Day plates created by master enamelist Jean Paul Loup. The middle one was the first year and has a limited edition of 500. Today's value $1,400.00 in mint condition. The plate on the left was issued in 1975 at a number of 300 and is valued today at $1,300. The rarest of the three is the 1976 Mother's Day plate on the right. It has a limited edition of 150 issues and was the last year Loup produced the Mother's Day plate because the process became too expensive. This plate in mint condition is valued at $2,800.00. (Click on photo to enlarge).

The combined plates above were purchased over a period of a year, and cost me less than five hundred dollars for the entire collection. You too can find deals like this and I expect a lot of you will catch the collecting bug, especially when you find that big money can be made. But beware: collect quality not quantity, buy below market not above market price, and remember, even if you really have no intensions to do so, store your collector plate as if some day you are going to sell that investment. So, keep it in a good, clean, dry environment. And don't lose that paperwork! It could cost you. Happy Hunting.

*****
Jeffrey D. Leiser is author of the "Home Buying Inspection Guide" and the "You Can Sell Your House: For Sale By Owner" guidebook, Read more articles on home and garden topics in the Home Style News email newsletter. Subscribe free at http://ParadoxPro.com/ezine.html


Sunroom or Solarium Additions: Bringing the Outdoors In
Sunrooms have become very popular additions to today's home. The design brings the homeowner closer to the outdoors, but with all the coziness and comfort of an indoor room.
Which Home Mortgage Loan Is Best: Get Your Questions Answered!
With today's lower mortgage interest rates, many homeowners are looking to refinance their first mortgage on their home, sometimes to incorporate a second mortgage or home equity loan.
Homeowner's Insurance: What You Should Know
Homeowners' insurance is going to be a necessity any time you buy a home and have it financed. Insurance is designed to protect the home owner in case of emergency. Your mortgage lender will require the insurance policy to protect their investment, but it is important to have it even if your house is paid in full, as a protection of your investment in your home and possessions.
Take the Bite Out Of Mosquitoes, and Avoid the West Nile Virus
Mosquitoes have always been pesty visitors when it comes to summer enjoyment, but because of the West Nile virus, it has become critical that we do whatever we can to reduce the number of mosquitoes paying visits to our yards.