Try these articles:

• going green at home, being environmentally friendly
• keep mosquitoes out of your home and yard
• waterproofing your basement
• how to avoid foreclosure and keep your home
• security, alarm systems for your home
• sunroom or solarium: a bright addition
• remodeling your kitchen
• which home mortgage loan is best for you
• determine your home's value for selling
• find two more hours in every day.

The Ultimate Book of Decorating and Do-It-Yourself
by Mike Lawrence with Stewart and Sally Watson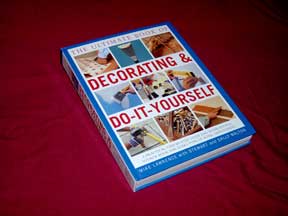 $29.95 with free shipping for a limited time in the U.S.

We were highly impressed with this 510-page, illustrated book, The Ultimate Book of Decorating and Do-It-Yourself by Mike Lawrence with Stewart and Sally Watson. This incredible reference covers the gamut of home improvement choices from floor to ceiling, including choices and types of paint, wallpaper, tiling, flooring, kitchen and bathroom updates, light fixtures, soft furnishings, shelves and storage solutions, window treatments, beds and bedding and more. You'll love the large photographs and clear, step-by-step instructions.
Start with this essential book before any home decorating or home improvement project!

Sunroom Additions: Bringing the Outdoors In
Sunrooms have become very popular additions to today's home. The design brings the homeowner closer to the outdoors, but with all the coziness and comfort of an indoor room.
Home Mortgage Loan Options: Get the Most for Your Money!
With today's lower mortgage interest rates, many homeowners are looking to refinance their first mortgage on their home, sometimes to incorporate a second mortgage or home equity loan.
Homeowner's Insurance: What You Should Know
Homeowners' insurance is going to be a necessity any time you buy a home and have it financed. Insurance is designed to protect the home owner in case of emergency. Your mortgage lender will require the insurance policy to protect their investment, but it is important to have it even if your house is paid in full, as a protection of your investment in your home and possessions.
Take the Bite Out Of Mosquitoes, and Avoid the West Nile Virus
Mosquitoes have always been pesty visitors when it comes to summer enjoyment, but because of the West Nile virus, it has become critical that we do whatever we can to reduce the number of mosquitoes paying visits to our yards.