Try these articles:

• going green at home, being environmentally friendly
• keep mosquitoes out of your home and yard
• waterproofing your basement
• how to avoid foreclosure and keep your home
• security, alarm systems for your home
• sunroom or solarium: a bright addition
• remodeling your kitchen
• which home mortgage loan is best for you
• determine your home's value for selling
• find two more hours in every day.

Planning Your Garden


by Peter McHoy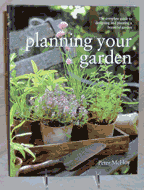 $14.95 with free shipping
Our favorite garden design book is Planning Your Garden by Peter McHoy. This comprehensive 256-page, illustrated book includes terrific full-color pictures and easy to follow text, with everything you need to plan and design a great garden.

Table of Contents:
• Garden Planning Made Easy
• Low-Maintenance Gardens
• Patios, Balconies and Roof Gardens
• The Japenese Influence
• Rock and Water
• Gardening for Wildlife
• Small Gardens
• Family Gardens
• Kitchen Gardens
• Index

"You can have your garden designed and constructed by professionals, but it will cost a great deal of money, and the chances are that it won't give you as much satisfaction as having created a garden by your own efforts," says Peter McHoy.
As you enjoy the easy-to-read pages and view the huge photographs, you'll begin to design your own garden, step by step, knowing basic patterns of design, surface treatments, ornamentation, containers, and a variety of styles for the perfect garden. You'll find out how to choose plants for specific locations, special conditions and different effects.
Once you read the book and see the numerous pictures, you'll be able to design your garden like a professional landscaper.
Order today, and you'll soon be enjoying the perfect garden for your yard. Just $14.95 with FREE SHIPPING.
Sunroom Additions: Bringing the Outdoors In
Sunrooms have become very popular additions to today's home. The design brings the homeowner closer to the outdoors, but with all the coziness and comfort of an indoor room.
Home Mortgage Loan Options: Get the Most for Your Money!
With today's lower mortgage interest rates, many homeowners are looking to refinance their first mortgage on their home, sometimes to incorporate a second mortgage or home equity loan.
Homeowner's Insurance: What You Should Know
Homeowners' insurance is going to be a necessity any time you buy a home and have it financed. Insurance is designed to protect the home owner in case of emergency. Your mortgage lender will require the insurance policy to protect their investment, but it is important to have it even if your house is paid in full, as a protection of your investment in your home and possessions.
Take the Bite Out Of Mosquitoes, and Avoid the West Nile Virus
Mosquitoes have always been pesty visitors when it comes to summer enjoyment, but because of the West Nile virus, it has become critical that we do whatever we can to reduce the number of mosquitoes paying visits to our yards.